Posted on November 12 2017
The Board of Trustees of the American Museum of Fly Fishing has announced Sarah Foster, a valued member of the AMFF team since 2007, as the Museum's new Executive Director.
Read more in the press release below.
AMFF Appoints New Executive Director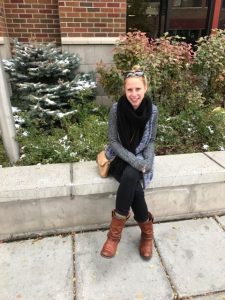 Manchester, Vermont (November 9, 2017) – The Board of Trustees of the American Museum of Fly Fishing is  pleased to announce Sarah Foster as the Museum's new Executive Director. A valued member of the AMFF team since 2007, Mrs. Foster brings a wealth of institutional knowledge to the position. She previously served as the Museum's Director of Development.
Karen Kaplan, AMFF Board President said today, "Sarah is an AMFF staff veteran, highly respected by both the Trustees and staff, whose expertise will lead the Museum forward in a smart and positive way. We greatly welcome her as our new Executive Director."
"2018 marks the Museum's 50th anniversary which is honorable in its own right, but coupled with the launch of our anticipated saltwater exhibition and the creation of a new permanent fly room, we have set the stage for an exciting year. The Museum has a wonderful Board and loyal supporters locally, across the country, and around the world," commented Mrs. Foster today from her office overlooking Main Street in Manchester Village. She went on to say, "The Museum is an important cultural landmark here in Vermont and also does a wonderful job serving the fly fishing community at large, and continues to be a place where angling historians, life-long enthusiasts, and new-comers alike can come together (either in person or online) to celebrate the rich history and tradition of our sport."
Mrs. Foster is a graduate of the University of Albany and holds a Bachelor's Degree in Anthropology and Business. She is a longtime resident of Shushan, New York where she lives with her husband and two children along the Battenkill River. She is an avid barrel racer and serves as treasurer at her local church.
About the American Museum of Fly Fishing
The American Museum of Fly Fishing is the steward of the history, traditions, and practices of the sport of fly-fishing and promotes the conservation of its waters. The Museum collects, preserves, exhibits, studies, and interprets the artifacts, art, and literature of the sport and, through a variety of outreach platforms, uses these resources to engage, educate, and benefit all. The Museum fulfills this mission through our public programs (including exhibitions, gallery programs, lectures, special events, and presentations), our publications, and our quarterly journal, The American Fly Fisher.
For more information about the Museum please visit our website http://www.amff.org or connect with us on Facebook, Instagram, and Twitter.
Media Contacts: Samantha Pitcher| 802-362-3300 ext. 205