Posted on April 06 2018
The American Museum of Fly Fishing will celebrate its 50th anniversary in 2018. To mark this milestone, admission to the museum will be free to the public every Friday through 2018.
Read more in the press release below.
AMFF Celebrates its 50th Anniversary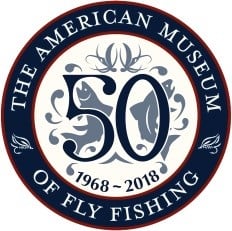 Manchester, Vermont (March 22, 2018) – The American Museum of Fly Fishing is celebrating its 50th anniversary in 2018. Admission is free to the public every Friday this year as AMFF marks this milestone.
"When the Museum was established in 1968, it would have been hard to imagine the place it has become. Through strong and steadfast dedication, we have built a collection, a destination, and a community of passionate anglers who stand behind our mission to be the steward of fly-fishing history," says Executive Director Sarah Foster. "We wouldn't be here today without the commitment of those involved in promoting fly fishing and conservation, and are proud to do our part in preserving the artifacts, innovations, and stories of this great sport."
In preparation for the 1893 Chicago World's Fair, Mary Orvis Marbury created wooden panels featuring flies and photographs to represent her father's outdoor equipment retailer, C.F. Orvis Company. These panels were rediscovered in 1963 as Hermann Kessler was conducting research for Field and Stream magazine. He approached the new owner of Orvis, Leigh Perkins, and in 1968 the American Museum of Fly Fishing was founded.
Fifty years after this seminal event, AMFF is now the world's most comprehensive repository and conservator of angling related artifacts, including the extensive Gardner L. Grant Library as well as 22,000 flies, 1,300 rods, and 1,300 reels. It also publishes a quarterly award-winning journal, The American Fly Fisher. AMFF is proudly known as the historical home of fly fishing.
This summer the Museum will open The Selch-Bakwin Fly Room, which will showcase the rarest flies from some of the most notable names in the history of fly tying—including Theodore Gordon, Preston Jennings, George LaBranche, Edward Hewitt, Megan Boyd, Lee Wulff, and Helen Shaw. AMFF also houses the oldest documented flies in existence, tied in 1789 in England and Scotland. Additionally, On Fly in the Salt: American Saltwater Fishing from the Surf to the Flats will open in preview in our Leigh H. Perkins Gallery before it begins a multi-city tour.
The American Museum of Fly Fishing is open Tuesday – Saturday from November through May and Tuesday – Sunday from June through October, 10 a.m. – 4:00 p.m.
For more information about the Museum please visit our website amff.org or connect with us on Facebook, Instagram, and Twitter.
Contact:
Samantha Pitcher| 802-362-3300 ext. 205