Posted on June 29 2018
Costa has released two new frame designs: the Slack Tide and Bayside, combining "the performance features Costa is known for with a relaxed, laidback, modern style."
Read more in the press release below.
Built for Life On and Off the Water, Costa's® New Slack Tide and Bayside Frames Combine Performance with Style
DAYTONA BEACH, Fla. – June 21, 2018 –  Named for tidal movements and the beauty of the shore,Costa's® new Slack Tide and Bayside frames combine the performance features Costa is known for with a relaxed, laidback, modern style.
Stemming from the company's deep history on the water, all Costa sunglasses, including Slack Tide and Bayside, bear reference to the water, its movement or locations. Slack Tide is named for the relatively still water experienced between the rise and fall of the tides. This new style offers a sporty, yet stylish look for adventures on and off the water. The ventilation ports and Hydrolite® nose and temple pads help manage perspiration and heat while preventing slippage, and the frames are keeper-ready—perfect for multiple tide changes.
Bayside earns its name from the land on the shore of the bay—the best spot for wetting a line, taking in the view, and an early morning stroll. The new style offers a medium fit with a rounded eye shape, and was made to perform with sweat management ventilation ports, Hydrolite nose and temple pads and pin hinges.
The new styles are constructed with Costa's environmentally friendly bio-resin, are durable and lightweight, and hold their shape under the harshest conditions. Each of the new frames incorporates Costa's innovative sweat management system with ventilation ducting that allows airflow through the end piece of the frame—for cooling and to reduce lens fogging. And, like all other Costa frames, the new styles feature Costa's 580® color-enhancing lens technology (available in both polycarbonate and scratch-resistant Lightwave® glass), which selectively filters out harsh yellow light for superior contrast and definition and absorbs high-energy blue light to cut haze and enhance sharpness. The patented 580 lens technology provides 100 percent UV protection and polarization delivering the clearest lenses on the planet.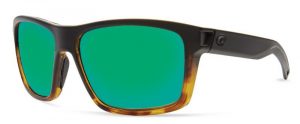 Slack Tide is available in shiny black and matte tortoise with 580 glass or polycarbonate lenses in all seven lens colors. The frames also come in matte black and shiny tortoise, shiny tiger shark (part of the OCEARCH Collection) and Bahama blue fade with 580 glass or polycarbonate lenses in multiple lens colors. All frame options can also be customized with prescription lenses.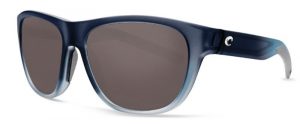 Bayside is available in shiny tortoise and shiny black with 580 glass or polycarbonate lenses in six lens colors (not including Sunrise Silver Mirror). The frames also come in Bahama blue fade with 580 glass blue mirror lenses or 580 polycarbonate gray lenses, and matte coral with 580 glass or polycarbonate copper lenses. All Bayside frame options are also available with prescription lenses.
"Slack Tide and Bayside feature new frame ventilation ducts to alleviate lens fogging for superior performance both on and off the water," said John Sanchez, vice president of product design for Costa. "Combining functionality and our patented lens technology with on-trend design, these new styles are perfect for anglers and adventurers."
The new styles range in price from $179 to $259, based on lens selection. For more information on the new frames and Costa's full line of performance sunglasses, visit www.costadelmar.com.
About Costa
As the leading manufacturer of the world's clearest polarized performance sunglasses, Costa offers superior lens technology and unparalleled fit and durability. Still handcrafted today in Florida, Costa has created the highest quality, best performing sunglasses and prescription sunglasses (Rx) for outdoor enthusiasts since 1983. Born on the water, Costa works hard to protect the waters it calls home. Through programs like its Kick Plastic campaign, where the brand seeks to raise awareness about the growing plastic pollution problem threatening oceans worldwide, to serving as a long-term partner to shark research organization OCEARCH, Costa encourages people to help protect the Earth's natural resources in any way they can. Find out more on Costa's website and join the conversation on Facebook, Instagram or Twitter at @CostaSunglasses.
Media Contacts:
Heather Miller, (864) 607-7922, heatherm@gunpowderinc.com
Carie Breunig, (414) 412-9155, carieb@gunpowderinc.com