Posted on July 05 2018
Darby Winery and the Wild Steelhead Coalition have joined forces to launce the Native Wine Coalition. For each bottle of Native Wine sold, twenty percent of proceeds will go to support wild steelhead conservation.
Read more in the press release below.
Darby Winery and Wild Steelhead Coalition Launch Native Wine Collection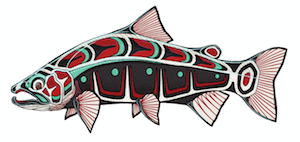 Seattle, WA – Darby Winery, an award-winning winery based in Woodinville, Washington, has teamed up with the Wild Steelhead Coalition to launch the Native Wine Collection. Featuring the 2014 Native Red, 2016 Native White, and 2017 Native Rose, the Native Wine Collection offers anglers and non-anglers the chance to enjoy a glass of some of Washington's finest wine while supporting its state fish, the wild steelhead.
With this exciting wine collection, Darby English is fusing his passion for meticulously crafting premium wines with his lifelong passion for pursuing and protecting wild steelhead. For every bottle of Native Wine sold, Darby will donate 20 percent of the proceeds to support the Wild Steelhead Coalition, which is working tirelessly to protect and rebuild wild steelhead populations.
"Having spent much of my life focused on catching and protecting wild steelhead, I am excited to have the chance to use the Native Wine collection to advance the Wild Steelhead Coalition's critical work," said Darby English, founder and owner of Darby Winery. "With the very existence of wild steelhead threatened, it is time for the business and conservation communities to unite to save these imperiled icons."
Across the West Coast, wild steelhead populations are in serious jeopardy, with the majority of steelhead stocks listed under the Endangered Species Act. Nowhere is the decline of wild steelhead more true than in Washington, where once world-class wild steelhead populations have declined in watersheds like the Puget Sound by more than 97 percent since 1900.
"I applaud Darby for his willingness to leverage the power of his Washington-based business to help save one of our state's iconic species," said Rich Simms, a founding member of the Wild Steelhead Coalition. "Wild steelhead need more leaders like Darby, who stepped up on his own to help protect a keystone species that is on the verge of disappearing."
The Native Wine Collection, a celebration of Washington's beloved fish and fine wines, features three delicious wines:
The 2014 Native Red Wine is a stunner of a first vintage. A blend of Cabernet Sauv, Malbec, Merlot, and Petite Verdot that is seamless with notes of dark cherry, blackberry, sage, and cedar. A very complex wine framed by smooth, slow-building tannins.
The 2016 Native White Wine will impress with old world characteristics of crushed stone, violets, and Provincial herbs. Sip this beauty all summer and enjoy the silky texture and crisp finish.
The 2017 Native Rose is a serious rose that you should stock up on for the warm months. Layers of firm peaches, citrus, strawberry, and bright mineral notes are impressively long with resonating floral and spice notes. Bring this dry rose to your next party, and it will impress your friends almost as much as the photo of the big wild steelhead you caught this spring.
To celebrate the release of the Native Wine Collection, the Darby Winery will be hosting a launch party on July 28th. The party will feature a fly casting competition hosted by Emerald Water Anglers, live music, a food truck, and of course great wine. You can purchase your tickets today here.
As part of the release of this collection, Darby Winery is excited to announce the launch of the Native Wine Club. As a member of the club, you have the choice of six or twelve bottles per year, released each spring. The inaugural wine is a Cabernet Sauvignon from the famous Red Mountain area in Washington. Membership in the Native Wine Club also includes two tickets to the release party every spring as well as access to limited Native Wine apparel. Memberships to the Native Wine Club can be purchased here.
At Darby Winery, grapes from Washington State's best vineyards are brought directly to your glass through a minimalist approach and old world techniques. Darby English meticulously crafts his varietals, delicately balancing the unique flavors of each grape to transform them into Washington's best wines. With precision, passion, and more than a decade of award-winning experience, Darby continues to stay at the forefront of the industry, cultivating wines with both elegance and edge. You can purchase the winery's premium wines on their website.
The Wild Steelhead Coalition (WSC) is a non-profit organization dedicated to increasing the return of wild steelhead to the waters of the West Coast. Founded in 2000 by a group of conscientious steelhead anglers and advocates determined to make lasting change for this iconic species, WSC has been working for nearly two decades to build partnerships, educate stakeholders, and change policy on behalf of this magnificent fish. You can learn more about their critical work and the myriad threats wild steelhead face on their website.
Contacts:
Darby English
darby@darbywindery.com
(425) 233-7879
Rich Simms
Rks57@yahoo.com
(425) 941-7041