Posted on July 11 2018
Bauer Fly Reels has announced the welcome of Jeff Evans to the company as General Manager. "I am very happy to announce the addition of Jeff Evans as GM of Bauer Reels," says CEO and President Scott Forristall. "Jeff's experience in purchasing, supply chain and general management will help direct the future of Bauer Reels."
Read more in the press release below.
Jeff Evans New GM for Bauer Fly Reels
Bauer Fly Reels is very pleased to announce that Jeff Evans has joined the company as new General Manager.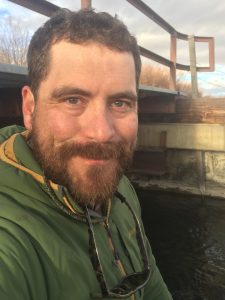 Jeff brings a wide variety of experience to Bauer Fly Reels. His background includes medical research, training and sales for large outdoor retailers and small specialty fly shops, and most recently, Wheat Buyer and Small Business Consultant for a bakery franchise. Jeff brings expertise in system design and implementation, business operations, and a long-held passion for fly fishing to the Bauer brand. When not behind a Bauer desk or workbench, Jeff can be found untangling knots for his two young boys, chasing his bird dog across the Montana prairie, or ski patrolling at the local mountain.
"For years, Bauer has been my go-to reel. From fishing my home waters in southwest Montana, to remote destinations, Bauers have always perform ed flawlessly. I'm thrilled to continue to build upon Bauer's unsurpassed tradition of quality and reliability."
Jeff Evans, General Manager
"I am very happy to announce the addition of Jeff Evans as GM of Bauer Reels. Jeff's experience in purchasing, supply chain and general management will help direct the future of Bauer Reels."
Scott Forristall, CEO and President
For more information, contact Bauer Fly Reels at info@bauerflyreel.com or call 888-484-4165.